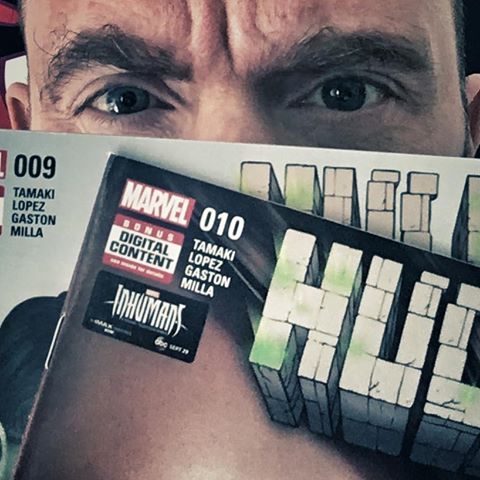 Francesco Gaston, alias Gas, was born in 1971 and is an Italian graphic designer and cartoonist.
He is self-taught and a lover of drawing since he was a child.
He attends the art school and obtains his diploma as a graphic designer at the European Institute of Design in 1995 in Rome.
He makes his debut in 1997 with the series "Fino alla fine del mondo" ("To the ends of the earth") edited by "L'INTREPIDO".
He works as a graphic designer in various studies until 2006 and returns to the world of comics in 2009 with  "Cotus & Leon" written by Leonardo Giordano and edited by "Lancio Comix" in Italy and in France by "Petit Pierre and Leiazel".
In 2012, he realizes the mini series "Bloodstrike 2" written by Tim Seeley and edited by "lmage Comics".
In 2013, he works for "Panini" as a colorist on "La parola alla Giuria" by Milo Manara.
Up until 2017, he continues to work as a graphic, cartoonist and capoeira instructor.
In 2017 he realizes the cover of "Highlander – American Dream" for "IDW Publishing" and two episodes of "Judge Dread-Funko Universe".
In 2017, he begins his collaboration with Marvel working on "Ms Marvel #18", "She Hulk #9 and #10" and "Monsters Unleashed #9".
PROFESSIONAL EXPERIENCE
2014 – to now
Freelance and Comics maker
2004 – 2013
Freelance
1999 – 2004
Graphic Designer
at computime – Custumers:
REPUBBLICA/L'ESPRESSO
IL TEMPO
MEDICI SENZA FRONTIERE
UNHCR
ANEC-AGIS
TRECCANI
PIEMME
HARMONISE
AD
MORFOSIS
COMPUTIME
1996 – 1998
Graphic Designer
at OPENROMA – Customers:
TELECOM
JOHNSON e JOHNSON
ERICSSON
PLAYTEX
ACQUA di NEPI
PRODUCTION
COMICS
2017
Monsters Unleashed#9
Marvel Comics, USA
She Hulk#9/#10
Marvel Comics, USA
Ms Marvel#18
Marvel Comics, USA
Jusge Dredd – Funko universe
IDW Publishing, USA
Highlander – American dream
Cover
IDW Publishing, USA
2014-2016
OBLIVN
Image Comics, USA
2013
La Parola alla Giuria (colors)
(Milo Manara)
Panini, Italy
Begin the Will
Zenescope Publisher, USA
2012
Bloodstrike Vol.2
Image Comix Publisher, USA
2009/2010
Cotus&Leon
Lancio Comix, Italy
Petit Pierre and Leiazel, France
2008
A Separate World
iPhone
1997/1998
Fino alla fine del mondo
L'INTREPIDO Publisher
1996
Envahisseurs
BD PENTHOUSE Publisher, France
1995
Hell 17
TATTILO Publisher, Italy
ILLUSTRATION
2000/2003
PS-MANIA 0.2
Posters and covers
2000
l'AUTOMOBILE
Illustrations
1999
ACI
Illustrations
graphics – advertising
publishing
2012
myBestPlace
Logo and graphics for iPhone App
1999
Soluna (group of Capoeira)
Logo
Kitchentools (Virgin Music)Logo/graphics/web site
1997
Impresa e Solidarietà
(service company)
Logo
Donne in Corto
(Film festival)
Logo and poster
Un Re Nudo
(Dina Nerozzi Frajese's book)
Cover
1996
Istituto delle Neuroscienze ed Endocrinologia
Logo
100 anni del Cinema
Poster